This on-demand professional training program on The Importance of Risk Communication: Long Reports is presented by Brianne Layden, PhD in partnership with Protect International Risk and Safety Services
Risk communication is one of the most important and most challenging strategies for ensuring that management strategies are implemented and violence is prevented. This program focuses on best practices related to the structure, content, and process of long reports. Case illustrations are used to highlight both promising practices and challenging issues when writing long reports (e.g., including all relevant elements, incorporating all virtues of communication). This program is appropriate for those new to the field of violence risk/threat assessment, as well as experienced professionals who are looking for an update on issues best practices related to risk communication.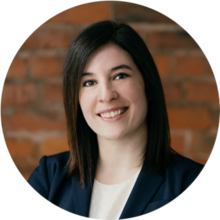 Dr. Brianne Layden obtained BA, MA, and PhD degrees in psychology at Simon Fraser University. She worked with the Forensic Psychiatric Services Commission of British Columbia, Canada, as a psychology assistant, and with the DBT Centre of Vancouver as a clinical extern from 2012 to 2016. She also worked as a Forensic Psychology Fellow at the University of Massachusetts Medical School from 2017 to 2018.
Learning Objectives
Upon completion of this program you will be able to:
Describe basic elements and core virtues related to long reports

Describe promising practices and challenging issues related to writing long reports
Protect International Risk and Safety Services
We are proud to partner with Protect International Risk and Safety Services for this training. Protect International's threat assessment professionals are internationally recognized experts that have developed some of the world's most widely used and best-validated threat assessment tools. Protect International provides services and products related to violence risk assessment and management, also known as threat assessment and management. Protect International services and products include threat assessment training and support, case assessment and management, legal consultation, policy review and development, and program evaluation and research; along with threat assessment manuals, worksheets, licenses, and software applications for those tools.
Looking to train a group?
Custom training options for groups of 5 to 500+
Contact us to talk about group training rates and how we can make annual training and new staff onboarding simple!